How Did Inflation and the Pandemic Impact Salaries in 2021?
Data from 7,000 church employees depicts a complicated mosaic of raises, pay cuts, and staffing changes.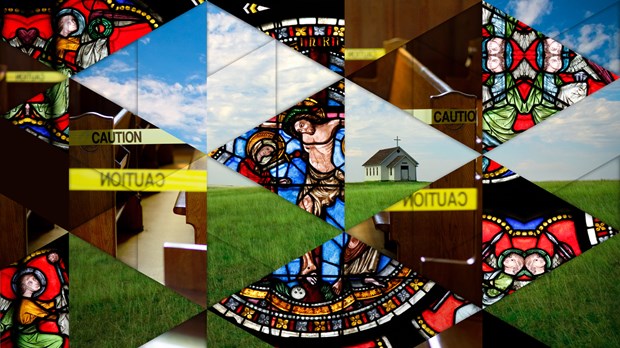 Image: Fred De Noyelle, gchutka, Kevin Trimmer | Getty
How did salaries change as a result of the pandemic and inflation in 2021 and 2022?
ChurchSalary is in the process of studying this question in depth with the assistance of the Arbor Research Group through a grant from the Lilly Endowment. Your church can still participate in this research. We want to hear your story.
In the meantime, this article will unpack ChurchSalary's tentative conclusion that the pandemic impacted churches and salaries differently depending on a host of factors including location, size, denomination, strength of online ministry, and more.
The Great Reshuffle
Everyone is talking about the Great Resignation, but our data is describing a complicated mosaic more aptly titled the Great Reshuffle. Much like the secular marketplace, everything is in flux: older pastors are retiring, the size and shape of church staffs are changing, even as some churches are struggling to hire qualified and willing pastors.
One of our current hypotheses is that the pandemic reshuffled attendance. While some people stopped attending church altogether, there are reasons to believe that many faithful Christians simply moved to different churches.
For example, Willow Creek recently announced that they are laying off 30% of their staff in order to save $6.5 million in payroll costs, because they are "about half of the size we were before COVID." While much of this decline is due to the controversy and resignation of co-founder Bill Hybels, half of Willow Creek's congregation did not evaporate. Instead, they moved their membership (along with giving and staffing needs) to nearby (likely smaller) congregations. This reshuffling is likely having an impact on the church labor market near Willow Creek.For example, because churches with smaller budgets pay less than larger churches any 'Willow Creek positions' that were reshuffled to nearby churches will pay less. Thus, even if no positions are truly eliminated the overall payroll costs for these positions will not equal the original $6.5 million.
This hypothesis easily explains why some churches are growing, while others are shrinking—as overall attendance declines. Faithful followers—along with church staffs—are being (or were) reshuffled.
The difficulty of tracking salary changes has been compounded by this reshuffling, creating a significant gap between self-reported and observed changes in pay.
Finally, three trends appear to be happening at the same time: healthy churches are handing out raises and growing their staff, stagnant churches are making minimal payroll changes, and struggling churches are cutting salaries and letting staff go in order to stay afloat.
In short, there is no neat, clear narrative—yet. Churches looking for a new status quo have two options: wait and see what emerges or forge a new path. But here is what we know so far.
Who Received A Raise?
To track both self-reported raises and observable changes, ChurchSalary compared salaries that were approved before and after the pandemic for 6,797 full-time or salaried employees (2021-2022 versus 2020 or earlier).
Out of the employees surveyed, only 46.1 percent of pastors received a raise in 2021 or 2022, compared with only 32.4 percent of staff (non-pastors). A small but noticeable contingent of pastors and a handful of staff reported a pay decrease, while the majority of pastors (51.5%) and staff (67.2%) reported no salary change. Overall, the odds of receiving a raise (43.5%) or pay cut (54%) were no better than a coin toss.
 Among all full-time pastors, the breakdown of who received a raise illustrates a larger problem in church staffing. The pastors most likely to receive a raise can be labeled "senior staff"—executive (55.3%), associate (52.8%), and senior pastors (49.3%). Given that these pastors often play a role in deciding raises and they are among the most well-paid church employees, their ranking speaks to a larger problem of pay inequity. But that is a discussion for another day.
 Among all full-time staff, roughly a third (32.4%) received a raise in 2021-2022. Employees whose work is limited to Sundays or weekend services (childcare, ministry support staff, and musicians) were the least likely to receive a raise. Overall, staff were 6 times less likely to have their pay cut than pastors.
How Much of a Pay Increase Did Employees Receive?
The most commonly reported raise across all employees in 2021-2022 was 5 percent. However, as these charts demonstrate, raises were not handed out consistently and in the same amount to every type of church employee. In fact, as the chart below indicates, the overall average change in salary based on self-reported figures is rather sobering when you factor in employees who reported no salary change—only 1.99 percent for pastors and 1.42 percent for staff.
Executive pastors and church HR directors who want to know why ChurchSalary's data hasn't changed that much should bear this in mind. As we predicted in November 2020, churches and salaries are experiencing a K-shaped recovery. Some are shrinking, some are growing, and many are still frozen by indecision—waiting for a new normal to emerge.
While the data that ChurchSalary gathers is being pulled forward by healthy churches, the pastors and staff who received either no raise or a pay decrease are acting like a heavy anchor. Research has demonstrated that wages are "sticky" and raises and pay increases always lag behind inflation.
 In terms of the average raise each postion, our data from 6,797 employees surveyed indicates the following.
First, while the most commonly reported raise for all pastors in 2021-2022 was 5 percent, the average raise was 4.8 percent. However, as we noted earlier, if you include pastors who did not receive a raise (51.5%) or who received a pay decrease (2.4%), the overall increase dilutes to 1.99 percent.
 Second, the average self-reported raise for all staff in 2021-2022 was 4.5 percent. If you include staff who received either no raise or a pay decrease, the overall average increase plummets to 1.42 percent.
Your Results Will Vary
Whether your church will see a change in salary reports created on ChurchSalary is entirely contingent on position, church budget, experience, employment status, and a host of factors. In other words, your results will vary.
Pastors serving at smaller churches may see a decrease in the salary range on their distribution graph, while pastors serving at larger churches may see a significant increase. The quartiles may shift higher or lower while the median stays put.
Additionally, we should note that ChurchSalary is still weighing data from 2020 and 2019 in our system. This is necessary for providing localization and a robust set of reports for our 18 positions. Analyzing salaries requires a lot of data. Finally, as we noted earlier, wages lag behind inflation. Even though inflation is hitting 8 percent now, the data will not reflect that magnitude of a change for some time—if ever. For these and other reasons, while your salary reports on ChurchSalary will look different moving forward, they will be a mix of data that reflects the Great Reshuffle.
How Should Your Church Respond?
More research is needed into the state of pastoral salaries. The current data indicates that many employees received raises in 2021 and 2022, but many did not. In fact, 2.4 percent of pastors received a significant average pay decrease of -10.48 percent.
Ultimately, our prediction of a K-shaped recovery appears to be accurate. The chance that your church is struggling or in a holding pattern appears to be directly related to certain factors such as your size before the pandemic, but as Willow Creek demonstrates larger churches have not been spared.
It will take time for the impact of the pandemic and inflation to ripple through church budgets, church staff, and the employment market. Pastors will leave the ministry while others enter. Faced with staffing shortages some churches may pivot toward non-pastoral employees to fill open positions.
The dust has not settled, and ChurchSalary's data will always reflect the "middle of the pack." If your church is ahead of the game—growing and offering raises—you may need to adjust your numbers upward in the meantime. If your church is struggling—shrinking and cutting salaries—the figures in your reports may feel unrealistic. Either way, every church faces the herculean task of balancing your vision and mission with constantly shifting costs and economic pressures.
Due to the nature of the U.S. legal system, laws and regulations constantly change. The editors encourage readers to carefully search the site for all content related to the topic of interest and consult qualified local counsel to verify the status of specific statutes, laws, regulations, and precedential court holdings.